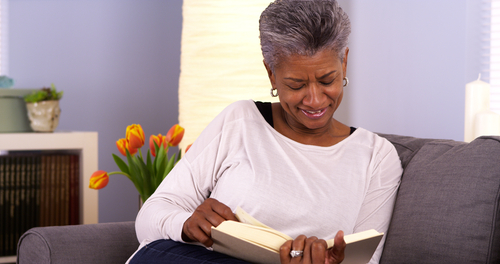 Do you have to put on reading glasses to enjoy a book or read a menu at a restaurant? Many people across the world use reading glasses to assist them throughout the day.
If you're one of them, you've probably grown accustomed to taking this extra step to view objects up close. However, modern advancements have provided an option that can help you reduce your need for readers.
If you're looking for options for permanent vision correction, RLE or refractive lens exchange may be right for you. Keep reading to find out why RLE could mean no more reading glasses!
What Causes a Need for Reading Glasses?
As you age, the lenses in your eyes become less flexible. When your lenses lose flexibility, your eye's ability to focus on near objects is affected.
This condition is called presbyopia. It is extremely common, and nearly everyone experiences presbyopia after the age of forty.
You also may find yourself holding reading material further away from your face to see it more clearly. People who are presbyopic also may experience headaches due to straining to focus on objects up close.
Reading glasses may be the simplest way to offset the effects of presbyopia, but they are not always the most convenient. When you need reading glasses to do any near activities, you have to make sure you carry them with you at all times.
Fortunately, there is a way you can reduce your dependency on glasses, whether for near vision or distance vision.
What Is RLE?
Refractive lens exchange, or RLE, is a procedure that replaces the natural lens of the eye with an artificial lens. This new lens is referred to as an intraocular lens or IOL.
RLE is incredibly similar to cataract surgery. Instead of improving cloudy, blurry vision due to cataracts, the primary goal of RLE is to reduce or eliminate your dependence on glasses.
The refractive lens exchange procedure can correct nearsightedness, farsightedness, astigmatism, and presbyopia. Depending on what type of lens you choose, you can experience different visual outcomes.
RLE is a straightforward procedure that typically takes between fifteen and thirty minutes. This procedure is performed on an outpatient basis, meaning you can go home the same day.
How Can RLE Reduce My Need for Reading Glasses?
Intraocular lenses that give you a wider range of vision are referred to as premium lenses. When you choose a premium lens, you will be able to see at multiple distances.
A premium lens can dramatically reduce your dependence on glasses since you will be able to see clearly at all ranges of focus. At EnVue Eye and Laser Center, we offer a range of premium IOLs to meet many vision goals.
These include the AcrySof IQ Panoptix trifocal, AcrySof IQ Vivity, Symfony Extended Depth of Focus, Tecnis Multi-Focal, and the Tecnis Eyhance IOL. These lenses can correct your refractive error, whether it be astigmatism, nearsightedness, farsightedness, or presbyopia.
Your eye doctor will work with you to determine which type of lens best suits your needs and provides optimal vision results. The benefits of a premium IOL last a lifetime.
The vast majority of patients no longer need to rely on reading glasses on a daily basis. Up-close objects appear clear once again, and you will not need cataract surgery later in life!
Are you ready to reduce your dependency on reading glasses? Schedule an appointment at EnVue Eye & Laser Center in Oxon Hill, MD, today to determine if you are a good candidate for RLE.