Welcome to Envue Eye and Laser Center, the National Harbor's premier laser eye surgery specialists. Our team of eye care professionals provides tailored service focused on you and your specific eye care needs. We specialize in laser eye surgery such as SMILE, LASIK and PRK, as well as lens-based vision correction procedures such as the EVO Implantable Collamer Lenses (ICLs), refractive lens exchange (RLE) and premium laser-assisted cataract surgery, and facial aesthetics such as Lumenis TriLift, the non-surgical facelift and Intense Pulsed Light therapy (IPL) for the treatment of dry eye, rosacea, and sunspots. Our goal is to improve your quality of life with exceptional results that allow you to enjoy life today. At Envue, the future is now.
We don't believe in compromise with your surgical procedure or our service to you – and neither should you. You'll find that the care, treatment, and experience you will receive at Envue is everything you've been looking for. Book a consult now!
Experience counts. I am a military-trained ophthalmologist and one of the foremost experts in the field of laser surgery. I completed my residency in ophthalmology at Madigan Army Medical Center at Fort Lewis, Washington. Then, I served as Chief of Ophthalmology and Chief of Surgery at Winn Army Hospital at Fort Stewart, Georgia. Prior to retiring from my 30-year military career at the rank of Colonel, I proudly served as the Director of the Warfighter Refractive Eye Surgery Program and Research Center (WRESP-RC) at Fort Belvoir, Virginia. I was the first ophthalmologist in the Department of Defense to perform the SMILE procedure and the first Ophthalmologist in the Washington Metro Area to offer TriLift, also known as the non-surgical facelift. I have co-authored numerous research articles and presentations on refractive and corneal surgery and strive to be at the forefront of providing the latest technology to my patients.We are conveniently located at the National Harbor with easy access within the Washington DC Metro Area including Arlington and Alexandria.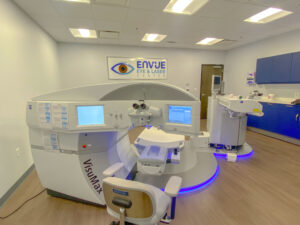 I was Extremely pleased with my visit yesterday. After having a bad experience with my last Ophthalmologist, I didn't know what to expect. However, I am so happy I found... read more Dr. Rivers and his staff. They were all friendly and attentive to my needs and I FINALLY got the answers I needed to properly treat my symptoms. I highly recommend EnVue Eye & Laser Center. Not to mention the beautiful office and convenient location. I give them an 15 out of 10. 😀

Wenda Tucker


January 7, 2023

My experience at EnVue was excellent from beginning to end. The staff are professional, knowledgeable, and friendly. I couldn't have asked for a better experience.

Natasha Thomas


December 10, 2022

I had cataract surgery on both eyes and was amazed with the results. Dr. Rivers is absolutely amazing and the staff is professional and treated me like family. ... read more This was the best medical care I have ever experienced. You owe it to yourself and your eyes to the best service ever. I promise you that you will not be disappointed.

Wayne White


November 24, 2022

Best Eye Doctor an staff, I was very happy it means a lot when people care an they do.

Terrence Dove


November 17, 2022

After being turned down for LASIK 10 years prior, I came to learn of this improved and even less-invasive SMILE procedure. The Envue facility is impressive and staff are... read more excellent. I'm so glad I got this surgery done. The recovery was easy and quick - I could see immediately enough to navigate the world, back to work reading the computer screen the next day, and my very near sight improved over the first few weeks. I recommend SMILE and the Envue team without reservation.

MrMrs K


November 15, 2022

I am so thrilled! The whole team is exceptional, and I am convinced that I could not have been in the hands of a better team than how for my... read more "Smile" procedure. 3 days post op, my vision improved to 20/20. One week later, my vision is at 20/15!!! Do you feel my JOY!??? Thank you to the whole Team❣️

Michelle Koranteng


November 15, 2022

I went to Envue for SMILE surgery. About a week post-op, I can say that I'm very glad I got the procedure done. I'm 20/20 in one eye and 20/15... read more in the other. The procedure was painless and the recovery was easy and comfortable. Dr. Rivers and his staff are extremely capable, kind, and patient. They answered all of my questions and were extremely transparent about pricing. I also appreciated the financial transparency as a student. I would highly recommend Dr. Rivers' practice (as I am to those I know who want to get vision surgery). I'm looking forward to continuing to see the doctor and his staff to check up on my eye health and vision throughout the post-op period!

Ava Uditsky


November 15, 2022

I cannot recommend this place enough. Their staff is so kind, informative, and funny. Dr. Rivers is so personable, knowledgeable and easy to talk to. It's like going to an... read more eye spa. The procedure was painless and fast. I did SMILE eye surgery and was able to see right away The euphoria I felt waking up in the morning and being able to see is indescribable. Thanks so much!

Cao Ting


November 15, 2022

I had a very positive experience at Envue Eye & Laser Center, from start to finish -- from the pleasant, friendly receptionist to the technician who asked me questions and... read more ran some tests on me, to the very kind, professional, knowledgeable and helpful Dr. Rivers. Everyone was happy to answer all my questions as we went along, and they all put me completely at ease. I HIGHLY recommend Envue to everyone!

Nancy Ellwein


October 15, 2022

Excellent staff and Dr. Rivers is exceptional

Brian Duncan


October 15, 2022