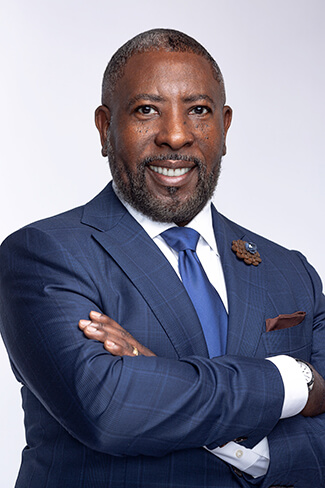 I am a military-trained ophthalmologist and one of the foremost experts in the field of laser surgery. I obtained my undergraduate degree from Temple University and was commissioned as a Naval Officer through the NROTC Program at the University of Pennsylvania. I deployed twice to the Persian Gulf as a Division Officer onboard the USS Theodore Roosevelt (CVN- 71). I obtained my medical degree from the Howard University College of Medicine where I attended on an Army scholarship. After deploying to Iraq as the Brigade Surgeon for the First Cavalry Division, I completed my residency in ophthalmology at Madigan Army Medical Center at Fort Lewis, Washington.
Then, I served as Chief of Ophthalmology and Chief of Surgery at Winn Army Hospital at Fort Stewart, Georgia. Prior to retiring from my 30-year military career at the rank of Colonel, I proudly served as the Director of the Warfighter Refractive Eye Surgery Program and Research Center at Fort Belvoir, Virginia. I have co-authored numerous research articles and presentations on refractive and corneal surgery and strive be be at the forefront of providing the latest technology to my patients. I opened Envue Eye & Laser Center at the National Harbor in October 2021.
I speak at many events and hold the following professional memberships: American Academy of Ophthalmology; American Society of Cataract and Refractive Surgeons; Maryland Society of Eye Physicians & Surgeons; American Refractive Surgery Council; Refractive Surgery Alliance; and the Alpha Omega Alpha Medical Honor Society.